DETAIL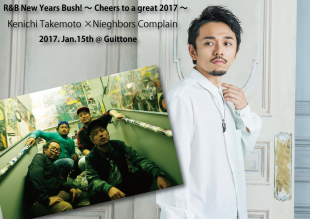 R&B New Years Bush! Cheers to a great 2017
3000 yen
Rates Advance 3,500 4,000 the day separately 1 beverage ... 500
Kenichi Takemoto come back to guittone! One-shot eyes of the New Year is a popular R & B band of Osaka, is a start in the joint live with Nieghbors Complain.Come We look forward to your reservation.
Menu
R&B New Years Bush! Cheers to a great 2017
Kenichi Takemoto × Neighbors Complain @ Sakaisuji Honmachi Guittone
January 15, 2017 (Sun)
Artist: Kenichi Takemoto Neighbors Complain
Location: Guittone (Guittone)
time:
1st Open 13:00 / Start 14:00
2nd Open 17:00 / Start 18:00
Seat total free
Rates: Adv 3,500 the day of 4,000 separately 1 beverage (500-) need
※ limited each performance to 80 people
Reservations: start accepting than accepting December 6, by e-mail.
To guittonemusic@gmail.com name, number of people, on top of the described the desired performance date (January 15, 1st or January 15, 2nd), please send.
Contact Guittone 06-6484-7236
Sponsored Gracias Guittone
Planning and production Gracias Guittone